​​​​​​​Has worked in several advertising agencies as art director, was a co founder at Estúdio Alice and Agência 750. 
As an illustration artist, has worked with some of the major advertising agencies in Brazil:

AlmapBBDO, DM9DDB, JWT, Cubo.cc, Africa, NBS, Ogilvy, WMcCann, Age Isobar, Leo Burnett, LiveAD, lew'lara\TBWA, FutureBrand, Young & Rubicam.
​​​​​​​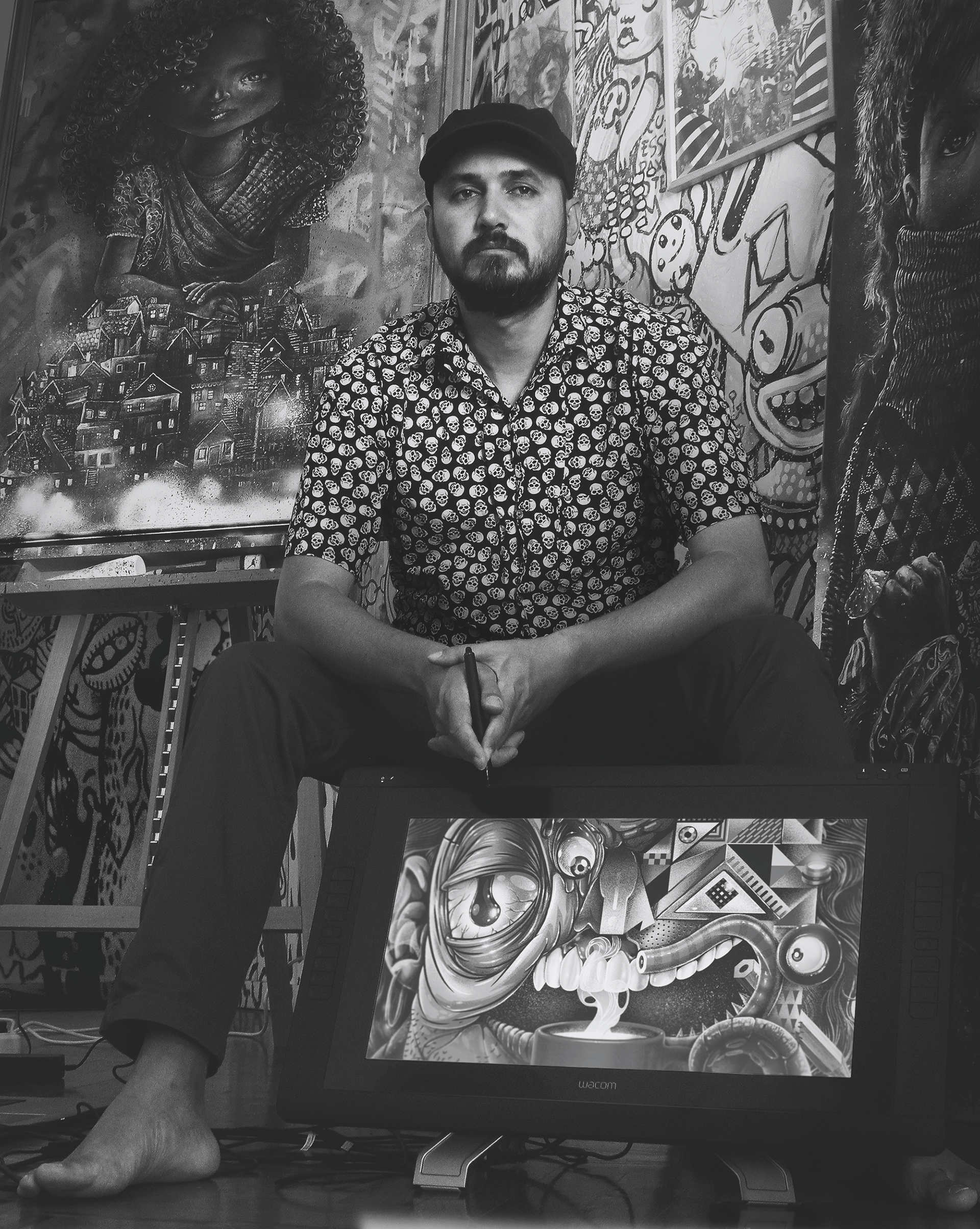 • 
Created brands and visual identities for dozens of companies; made art direction in advertising campaigns; storyboards for TV commercials;
• 
Has painted 100 square meters murals;
• 
Painted a cow for the COW PARADE in Paulista Avenue, the busiest avenue in Brazil;
• 
Published comics;
• 
Participated in artbooks;
• 
Has won countless design and illustration contests; 
• 
Developed design projetcs in 15 minutes, on a stage, in front of a 500 people audience, who were watching the designers battle "Cut&Paste". And Won.
Puhl is always ready for a new challenge. Send him jobs.
Awards
:
El Ojo -
Gold
- Graphic production - Play rock 'n' roll - Kiss fm  - 2020
El Ojo -
Bronze
- Means of entertainment - Play rock 'n' roll - Kiss fm  - 2020
Cannes Lions -
Shortlist
 - DAVID/JULIO - Kiss fm - 2016
One Show -
Shortlist
- USED OIL POSTER - Shell - 2012
Cannes Lions -
Shortlist
- USED OIL POSTER - Shell - 2012
Cut&Paste Porto Alegre -
Winner
 - 2011 
Camiseteria -
Winner
- 40 prints
Threadless -
Winner
- 02 prints


Lafraise

-
Winner
 - 02 prints 
Pampling -
Winner
- 02 prints 
Brastemp Micronderia -
Winner
Publications:
Lürzer's Archive / ideafixa.com / Livro Ideafixa / abduzeedo.com / zupi.com.br / Computer arts Brasil / clubedecriacao.com.br / revistadesign.com.br / HQ Grandes Encontros / HQ Puhl 01 
Clients
:
Bradesco / Itaú / Computer Arts / Mtv / Kiss fm / Bayer / TEDx / Brastemp / Sprit / Shell / Red Bull / Volkswagem / Camiseteria / Threadless / La Fraise / Ford / Google / Axe / Claro / Olympikus / Age Isobar / Ideafixa / Havaianas  / Pepsico / Hellmann's /Banco do Brasil / Gatorade / Nestlé / Ambev / McDonald's / Banca Mediolanum / TNT Energy Drink / Chevrolet /
Feel free to contact me:
ola@studiopuhl.com
w/app: +39 366 7351254
Turin - Italy